ZEROMUR skirting boards are aluminum recessed skirting boards against the wall, commonly known as hidden strips. Perfectly suited to modern and stylish interiors, especially where there are hidden doors and sliding doors.
The ZEROMUR skirting board can be filled with various materials, such as ceramic tile, sinter, parquet, vinyl, 4th generation sinter, glass, acrylic sheets, polymer glass and many others.
The main task of the skirting board is to protect the lower part of the wall against damage and dirt. It gives the possibility of a harmonious, homogeneous connection of the floor with the wall and with hidden doors. Skirting boards recessed into the wall are a modern and very fashionable replacement for classic protruding skirting boards.
ZEROMUR skirting boards are an aesthetic and designer solution, which is also very practical. We gain more space and harmony in the interior, allow furniture to be placed directly against the wall and reduce the amount of dust that settles on classic strips. Additionally, expansion joints can be hidden under the slats.
ZEROMUR skirting boards are adapted to all types of doors of our production.
Our skirting boards are dedicated to both masonry and plasterboard walls. For brick walls, we recommend using the "15" plinth with a fin, and for plasterboard walls, we recommend the "13" plinth without fin.
We produce two types of aluminum skirting boards:
– Plinth "15" with a top fin
filling thickness up to 10 mm, filling height up to 70 mm.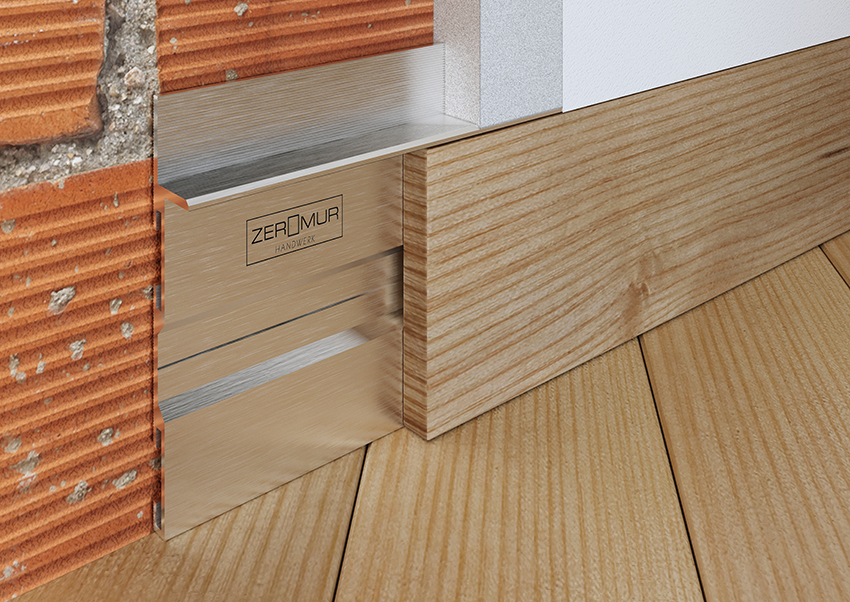 – Plinth "13" without a top fin
filling thickness up to 8 mm, filling height up to 70 mm.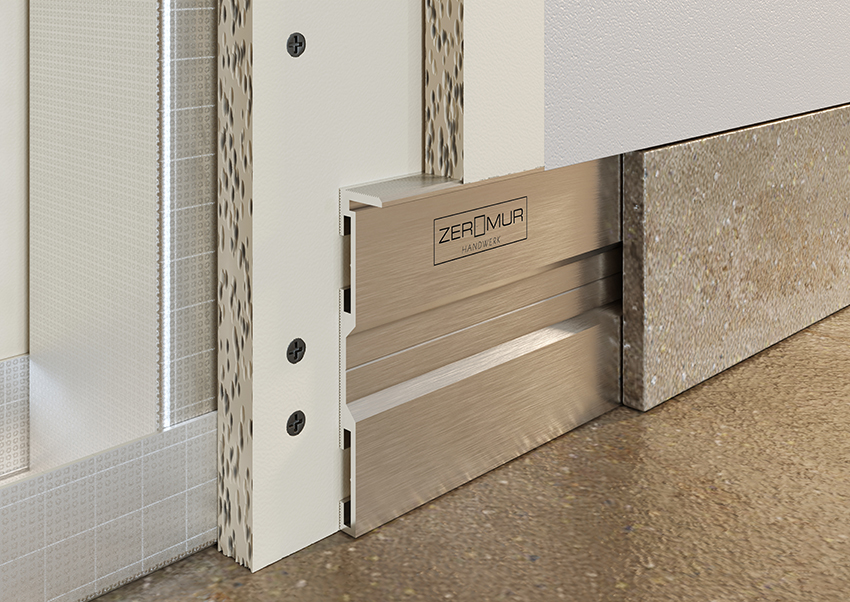 ZEROMUR skirting boards are available in 2-meter sections, which can be freely cut. The connection is made using system elements.
An additional advantage of our skirting boards are internal and external corners, which are 25 x 25 cm. These are two factory profiles cut at an angle of 45 °, creating a right angle. When using them and connecting elements, the assembly of the strips is quick and hassle-free.
If ZEROMUR skirting boards are to be used with doors of another manufacturer, special starter strips of our production should be used.